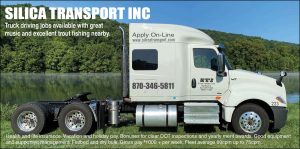 Drivers needed ASAP to cover good paying loads!
Flat Bed and Dry Bulk fleets.
We have more new trucks coming this month. Four more new 2024 trucks arriving next week. That will make 20 new trucks going on the road at STI the past few months. Our drivers are very happy with these new trucks. Talk to one of them if you get a chance.
Gross pay $1000 – $1750 per week.
1,500 Sign on Award | Orientation Pay | 22-26% of revenue per load | Average Fleet Pay is $.60 – $.75 cents per mile | Detention pay $25.00 per hour | Monthly Fuel efficiency award $0.01 per mile | Annual Performance & Safety Award | DOT clean inspection awards $150, $200, $250 | 6 paid holidays | Vacation pay | Life Insurance paid by company | Disability paid by company | Group Health Insurance, Disability, Dental Insurance, Cancer Insurance, Vision Insurance | Flexible Benefits Plan | Per Diem | Matching Simple IRA
If you have a good safety record and 2 years experience call 800-643-0096 : 870-346-5811 or visit
www.silicatransport.com
and fill out an online application.